Moderators can help managers with managing memberships and reviewing Posts. They have most of the admin privileges with a few exceptions, such as changing Group Settings, seeing Admin Only fields in the Registration Form, and sending out Email Blasts.
All Group Managers and Moderators appear to members in the Lounge. To see the managers (if the setting is visible), go to the Member Directory by clicking Members in the Feed, choose Members in the upper left, then choose Managers from the dropdown list.
To learn more about different account types, click here.
Click the links below to be taken to each section:
- Add or change the Group Moderator
- Group Moderator or Group Manager?
Add or change the Group Moderator
While in the group, choose Settings, click on Managers, click + Add new moderator link, type the member name or email in the popup box, choose the member, and then click the Save button.
Group Moderators do not have the full capabilities of a Group Manager.
Group Moderator View
When added, the group moderator will get an email similar to this: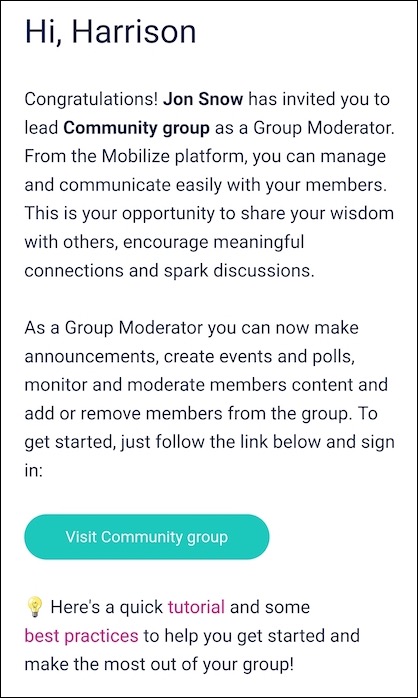 Once entered into the community, they will also see this popup explaining the role in the community along with the permissions associated with it.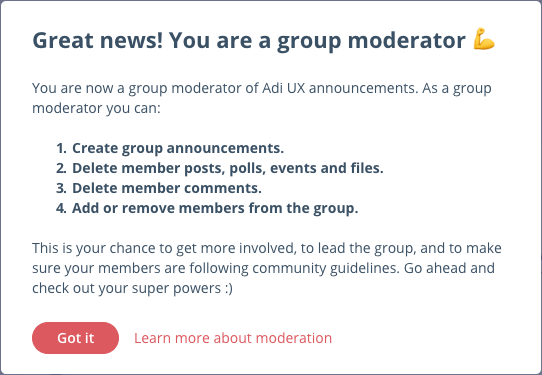 What Moderators can do