There are a few ways to add members to your group!
Have a list of email addresses? Copy and paste a list of emails
Upload an excel or CSV with all member info *Only available to Community Managers and Account Owners
One members one at a time
Add members from other groups
Have them apply/sign up to join your group with a registration form.
You have 3 locations where you can add members to your group.
In the Lounge for a quick add
The Member Lounge
In the member database for all the options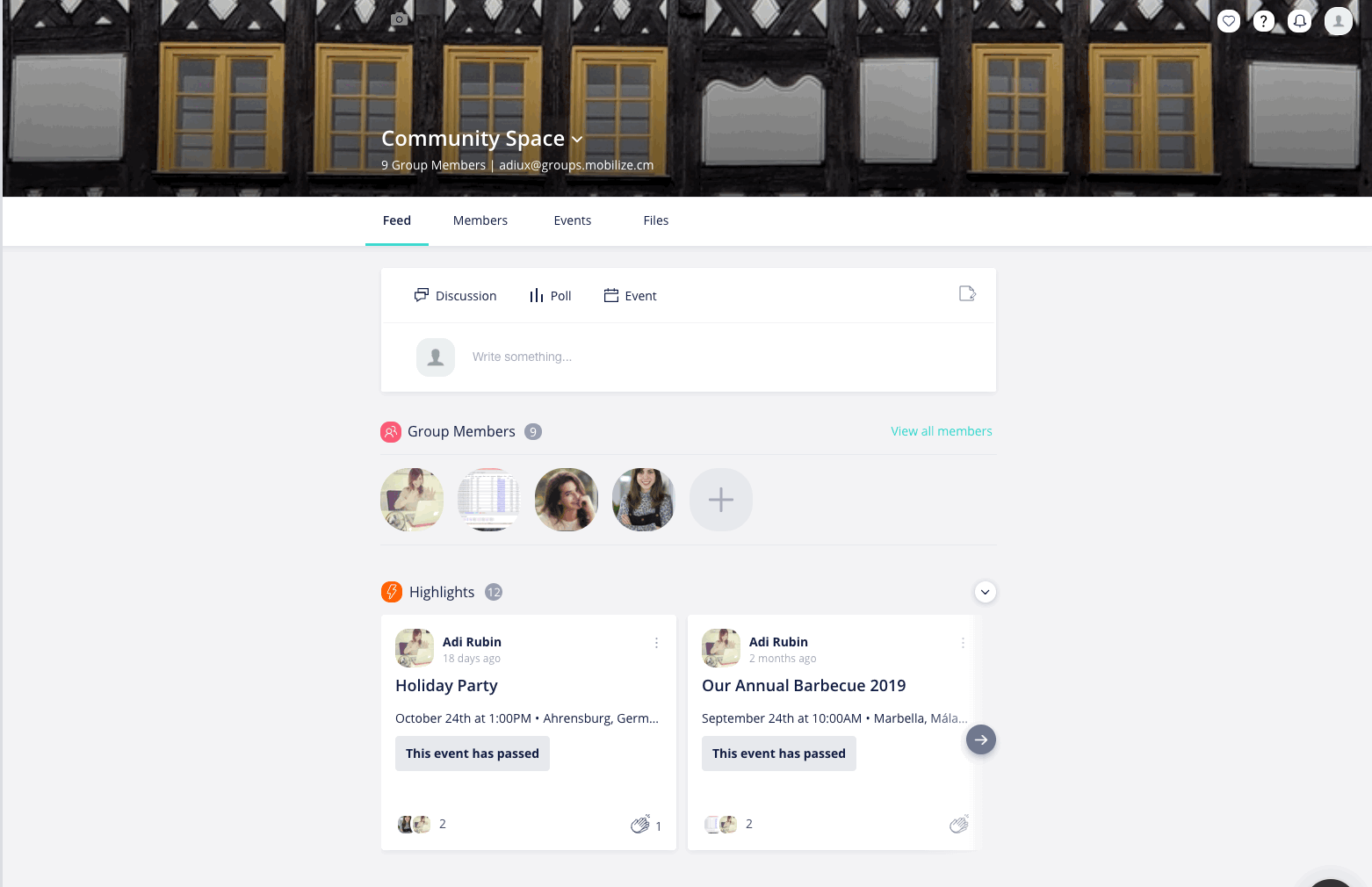 Here's a screenshot of the Member Lounge where you click on Add Members: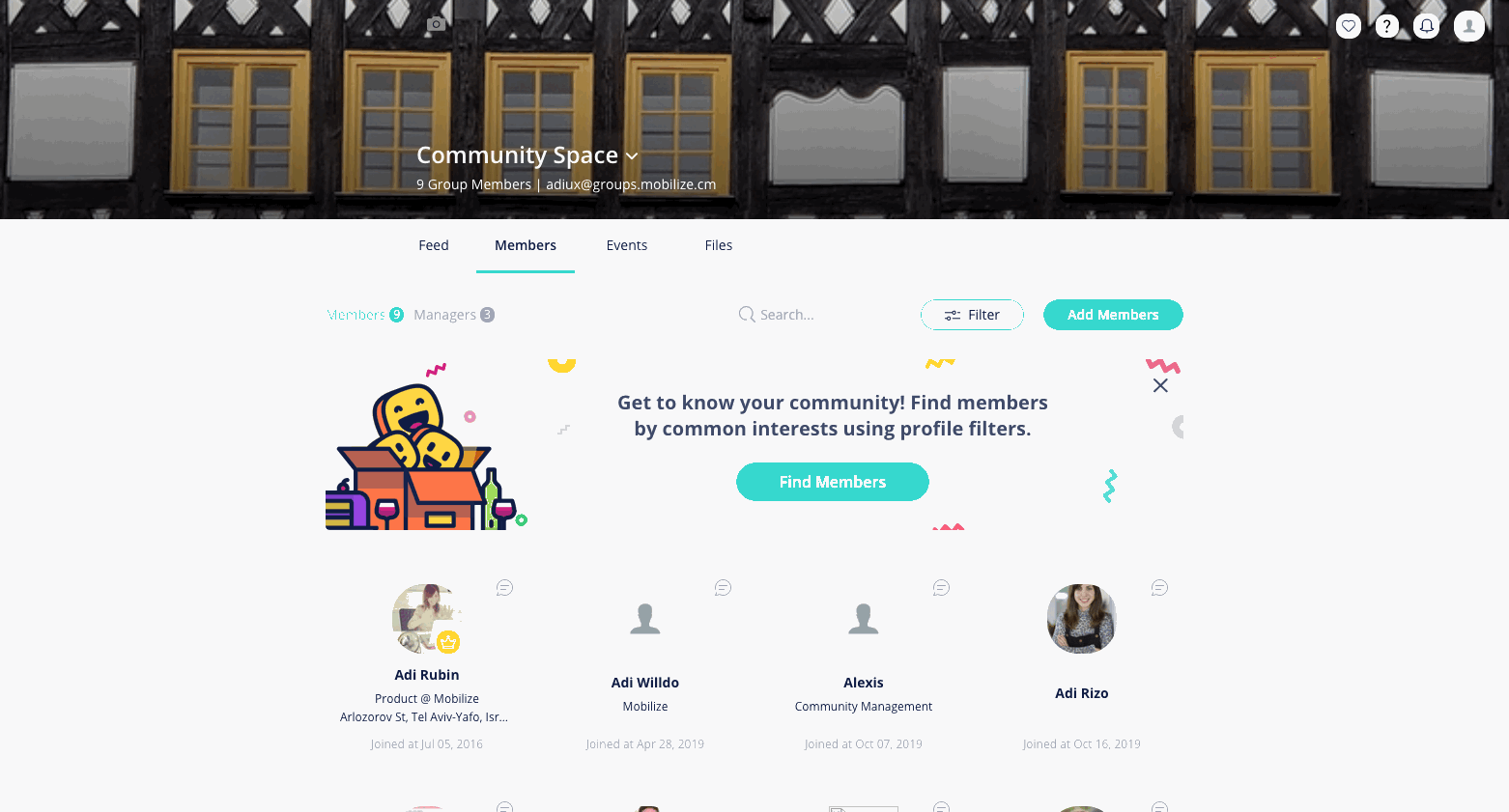 Here's a screenshot of the Member Database where you click on Add Members: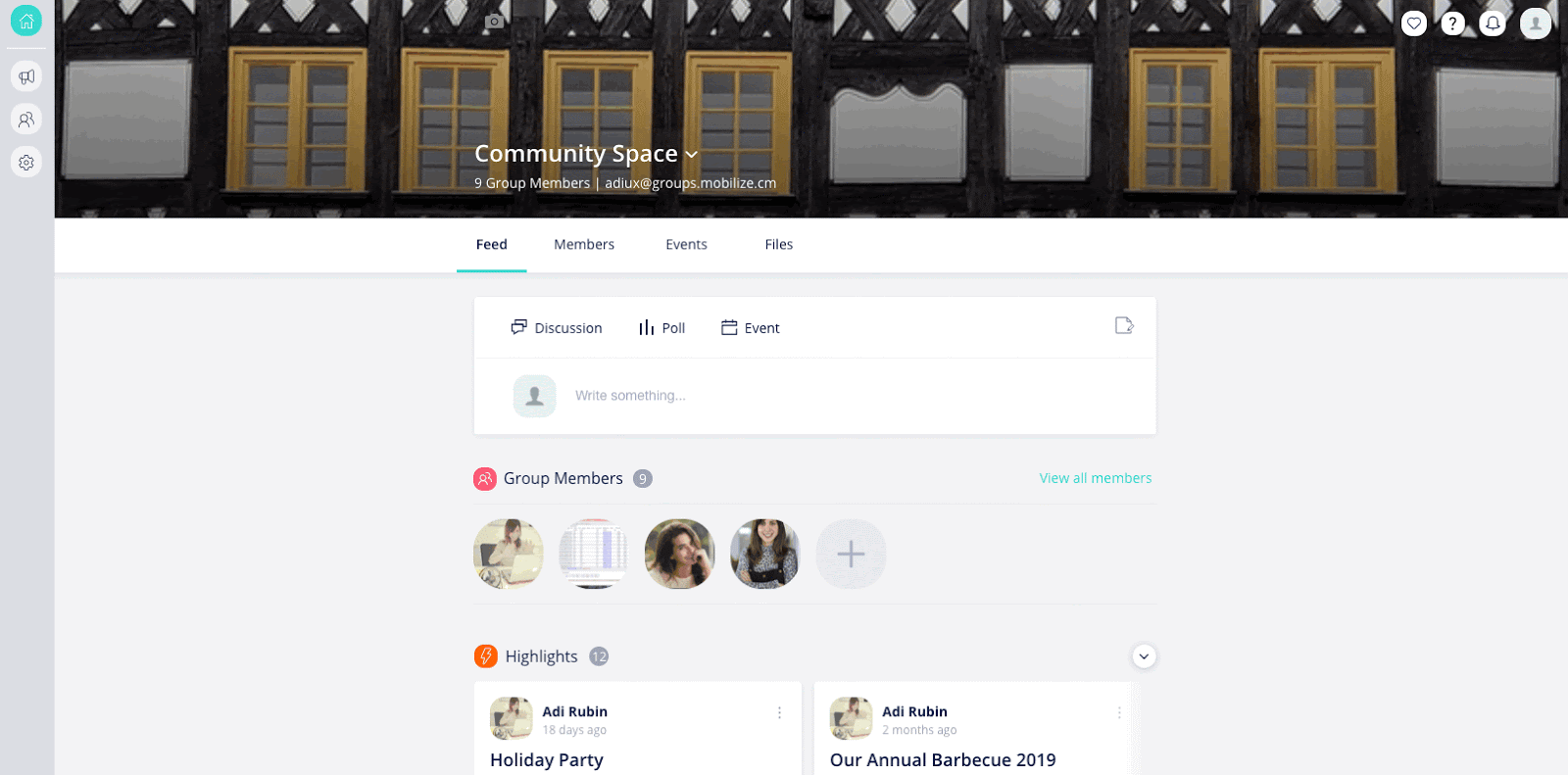 Adding members with a list of Emails
If you only have the email addresses for your members, we recommend the List of Emails option.
Click List of Emails and copy + paste your members' email addresses into the pop up window. You can choose to notify your members that they've been added to the group by clicking the Send Invitation Email button:
You can customize the text as needed. Or you can silently add your members and notify them later. Once you've decided, click Done. Your members will be added to the group.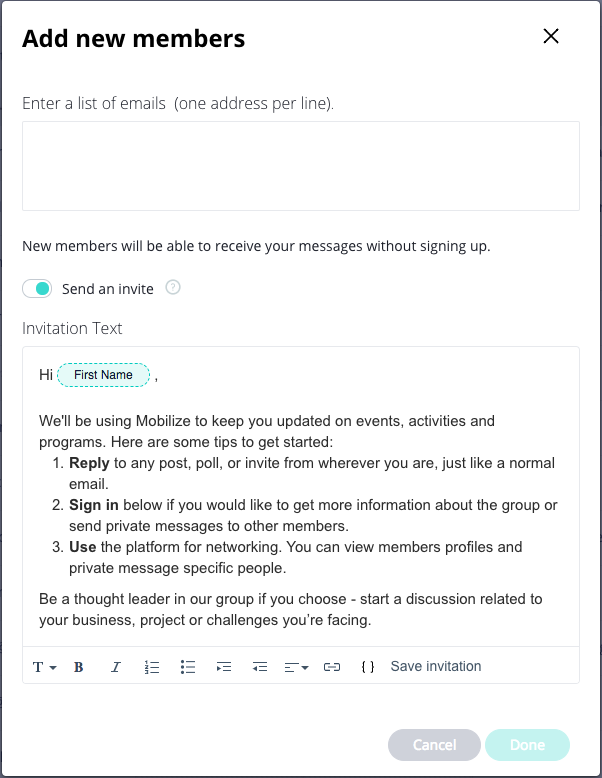 Uploading an Excel or CSV file
Click Upload Excel (see the menu of the screenshot above) and you will arrive at this screen: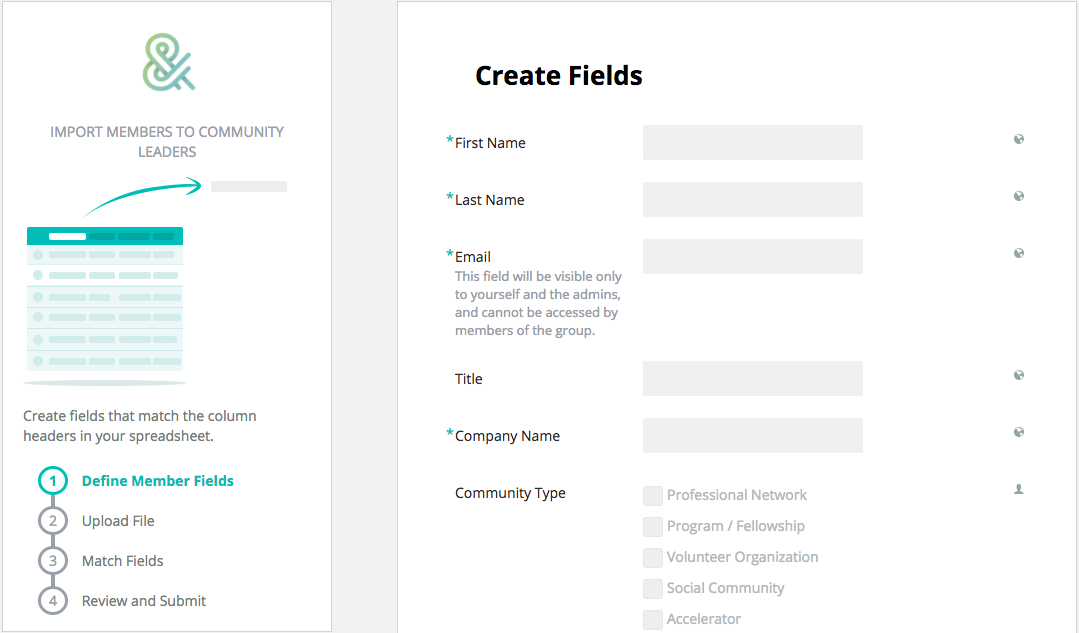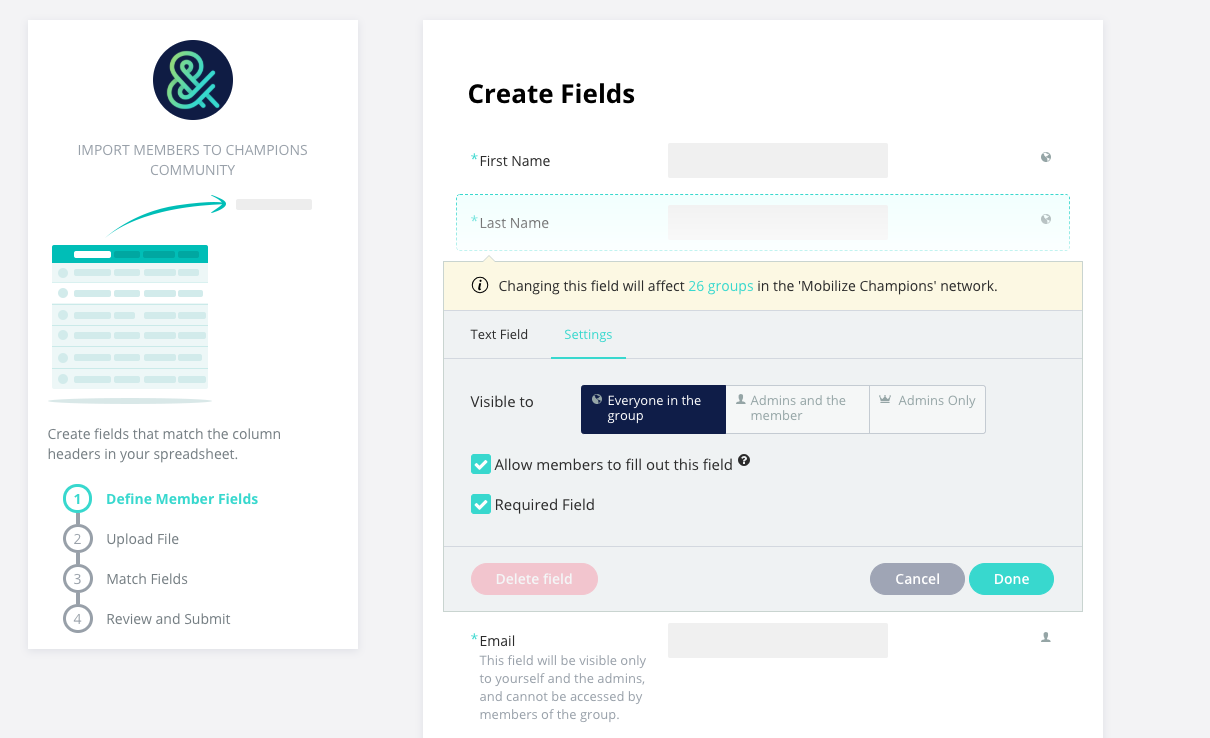 You have 5 easy steps to follow:
Define the member fields - In an excel sheet this represents the column headings. Think about how you would like to categorize the member information. You can use these fields to filter your member search later on.
Edit Field Privacy- Customize the privacy options for your fields
Upload File - You can upload either a CSV or Excel file.
Match fields - Once you upload your file the su=ystem will automatically recognize the names of the columns. Make sure each column matches the fields.
Review and Submit - Once all the information is ready simply click submit and your members will be uploaded to the platform.
Note: The platform will check any broken links or missing info and will give you a report so that you can go back and fix the information directly in your excel and re-upload the sheet. Additionally, if you are uploading a list that contains existing members, their information in Mobilize with be overwritten with information from the spreadsheet.
Adding one member
Click Add One Member and enter their details. You can choose to notify them by clicking the Send Invitation Email button. Click OK once you're ready to add them: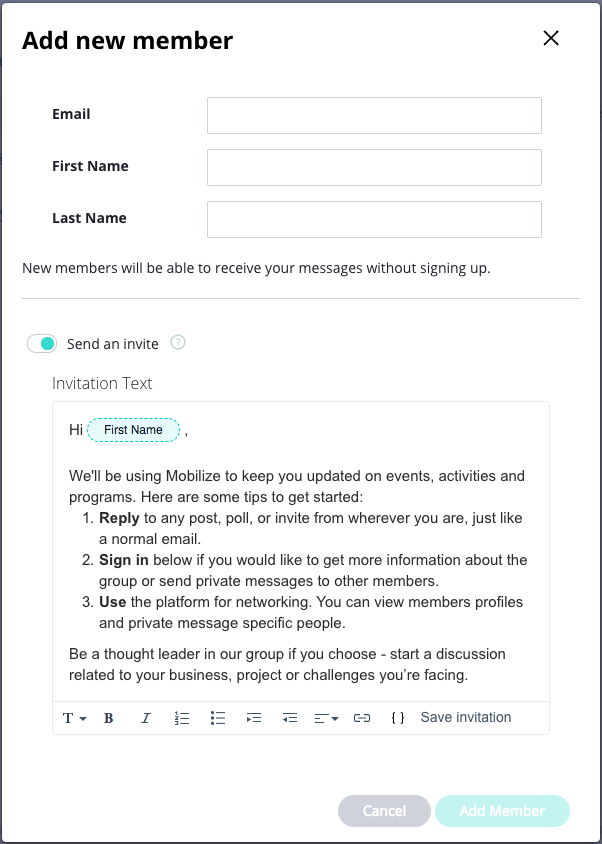 Here you also have the option to add an invitation email that will be sent to the email address list you added.
Adding members from other groups
Click From Other Groups. Select the members are use the filters to choose the member(s) you want to add.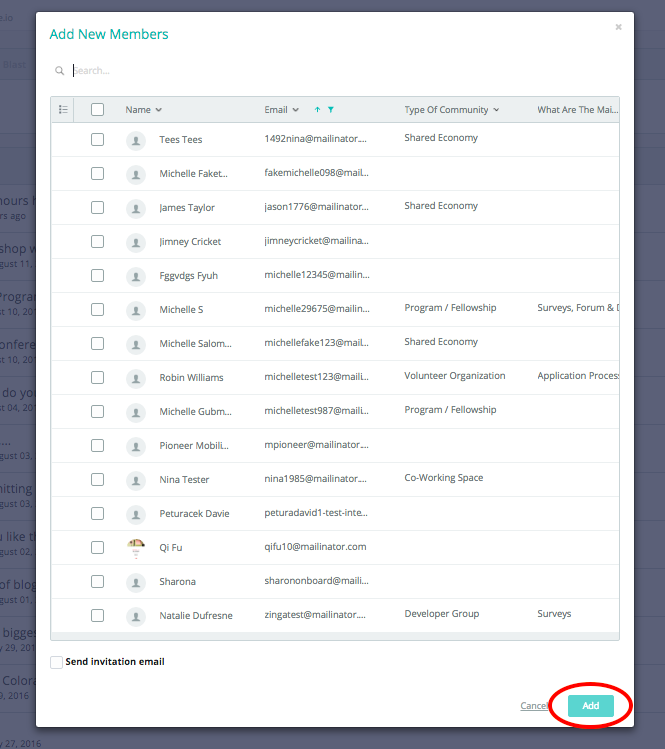 You can also have invite members to sign up to your group by sharing your registration form with them.