There are two types of emails that count as a "Manager Announcement". Members can choose to subscribe to the specific emails in each group, and managers can see the Manager Emails subscription in the Member Database.
How to announce a post in the Feed as a manager or moderator
Note: This feature is available on paid plans only.
Using the Announce option, managers, and moderators have more posting privileges than members.
To send a Post as an announcement, click the dropdown caret/arrow next to Post and select Announce.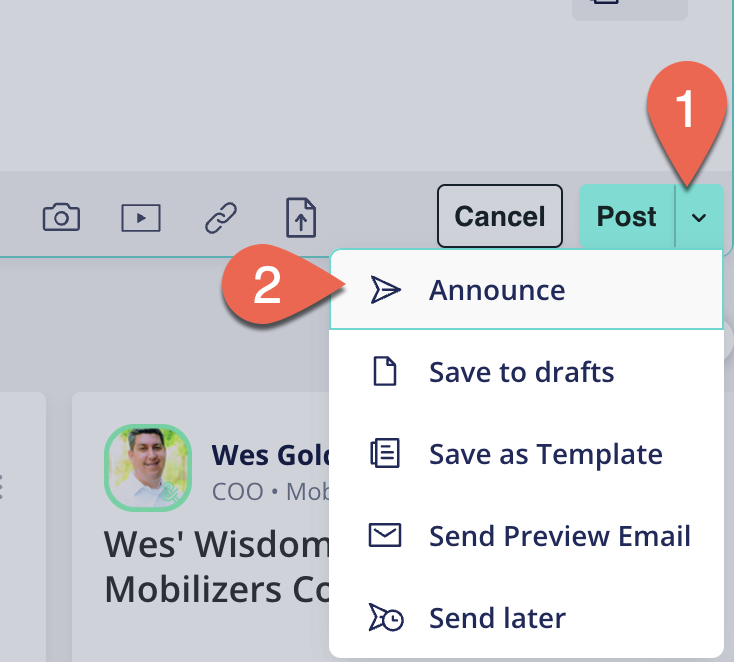 What happens when I announce?
The Post will be shown in the group's Feed and given a special Announcement icon.

If the group is set to

Instant

(

every new post as it is created

), then the behavior is the same for sending via email.

If the group is set to

Daily

(

a digest of the new posts from each day

) or

No Email

(when the three toggles are off), then this will override the group setting and send this Post directly via email.

If a member has "unsubscribed from Lounge emails" but has remained "subscribed to Manager Announcements" in this group, then the member will

get this email notification.

If a member has unsubscribed from all community emails, they will not receive the Post.
Here's a post in the Feed with the Announcement icon: