There are two types of emails that count as a "Manager Announcement". Members can choose to subscribe to the specific emails in each group, and managers can see the Manager Emails subscription in the Member Database.
How to announce a post in the Feed as a manager or moderator
Note: This feature is available on paid plans only
Using the Announce this option managers and moderators have more posting privileges.
When clicking Post the manager or moderator will get 2 options:
1) Yes, announce
Post to the feed and the post will be sent instantly via email to everyone in the group
If the group is set to Instant, then the behavior is the same for sending via email
If the group is set to Daily or Never, then this will override the group setting and send this post directly via email
Announcements are also highlighted in the feed with a special "Announcement" icon that looks like a bullhorn with the word "Announcement" after it
If a member has unsubscribed from Lounge emails but has remained subscribed to Manager Announcements in this group, then the member will get this email notification
2) No, just post
This means the manager or moderator will post to the feed based on the regular, default email notification settings of the group (Instantly, Daily Digest, or Never). It also means that if a member unsubscribed from Lounge emails, the member will not get this email notification.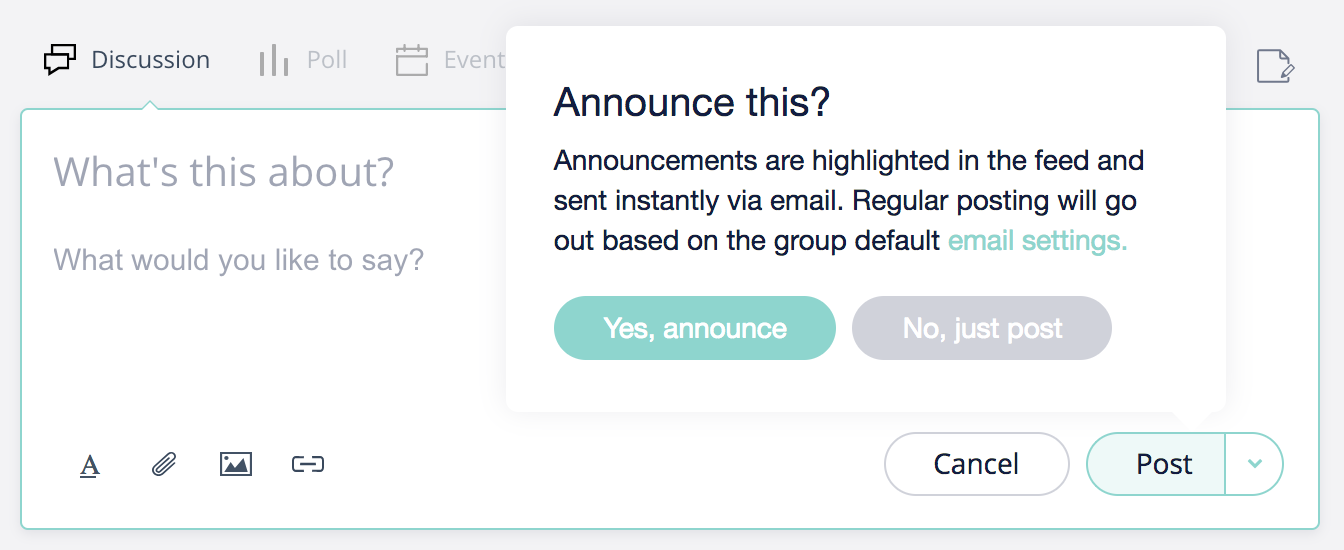 Here's a post in the Feed with the Announcement icon:

Managers and moderators can check if members are subscribed or not to the Manager Emails in a particular group, separately from the Lounge Emails of that group, in the Member Database (of that group). Remember that these subscription settings live at the group level.
Finally, the Manager Emails subscription status also applies to email blasts that managers or moderators send as a manager via the Outreach Center. Here's what the subscription columns look like in the Member Database: