Using Mobilize, communities can take advantage of using YouTube Live to engage members through live events or Q&As all while being virtually distanced.
Setting this up is very easy.
Enable your channel
Before you can live stream, your YouTube channel needs to be verified. If you haven't done that yet, go to www.youtube.com/verify to add your phone number and receive a verification code.
Note: It takes 24 hours to activate your account for live streaming.
On desktop and mobile
Go to www.youtube.com/dashboard

.

Click the Create button in the top right corner.

Select Go Live.

Select Later Date and select the date and time you would like to go live

Copy the go-live link and paste it into your discussion post
Now that you are set up, it's time to get ready to stream video within your community!
How to Live Stream in Mobilize:
While live streaming in Mobilize is easy, there are a few things you'll want to consider and prepare for. Fortunately, if you follow this quick live streaming guide you should be free and clear from any surprises.
Create a new discussion or event post and drop the live link in the description box and give a short description. The video will populate and you will see a thumbnail for the live stream.

* If you scheduled your live stream for a later date, you will see a countdown overlay in the bottom left of the video screen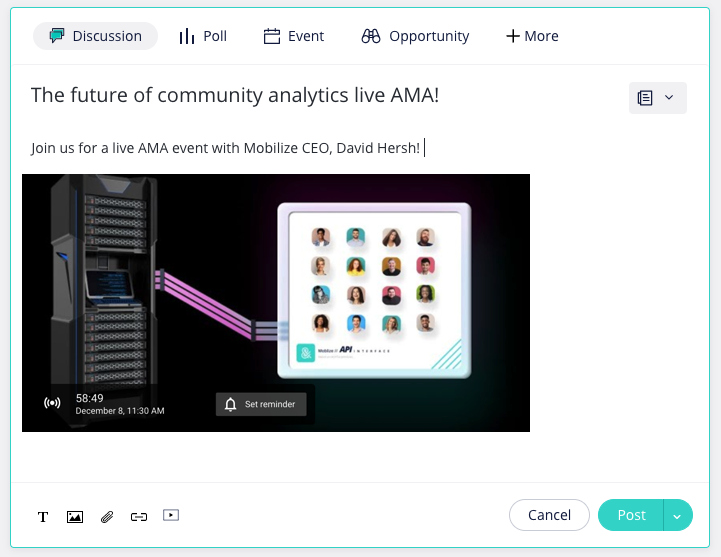 If you are doing a live AMA or Q&A event, you'll want to keep two tabs open during the stream. One with YouTube Live and the other with your Mobilize community so you can monitor comments.

Make sure to mute your Mobilize audio or you'll experience not-so-pleasant feedback. *Note that there is some lag time from Youtube to Mobilize with video and sound.

Test beforehand! Always test the user experience to ensure a successful event!

Prepare members! In order for a member to participate in the live stream Q&A, as well as comment and hear audio, they will need to access the live stream through the post.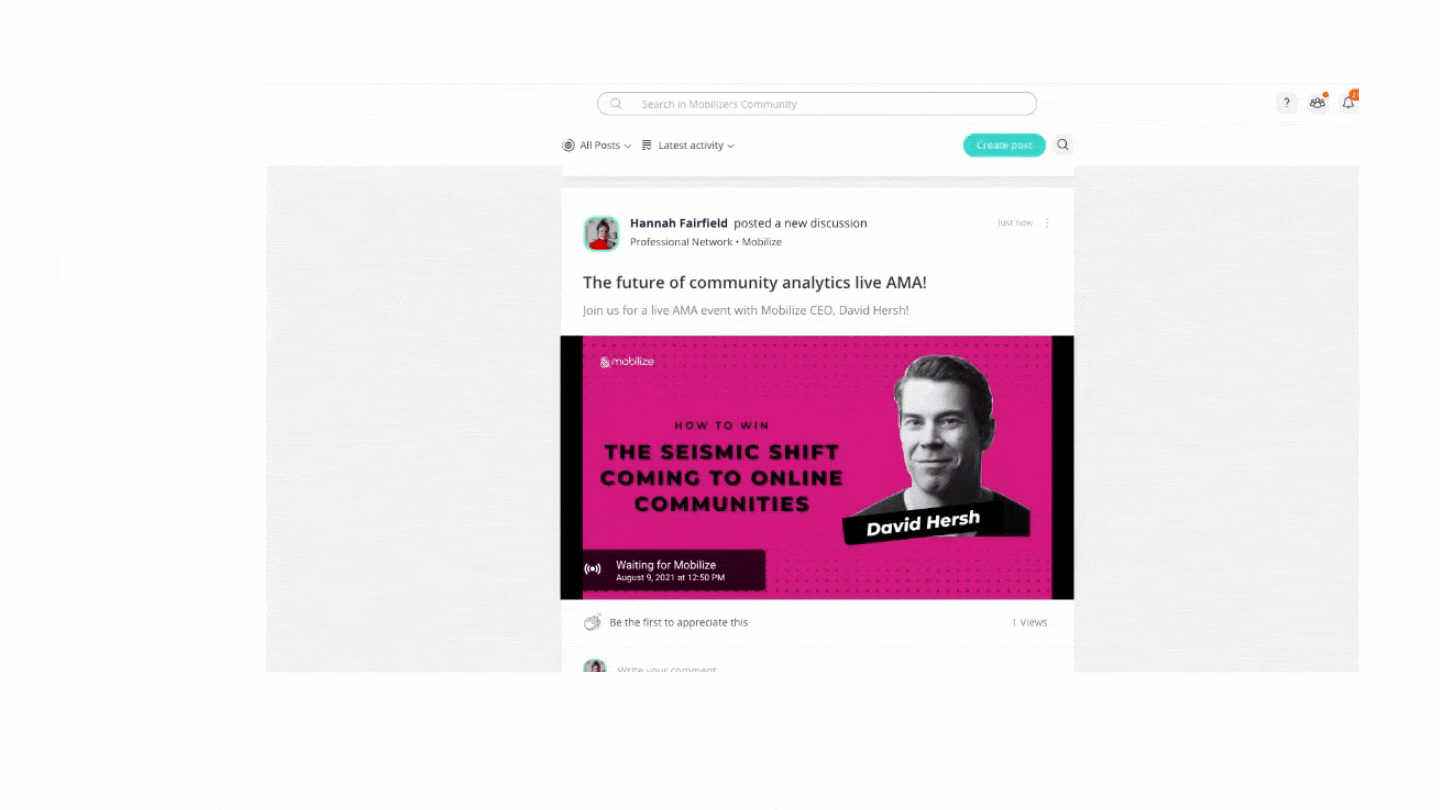 Take a deep breath, go live, and enjoy the interactive experience that is Youtube Live streaming with all your darling community members, new and old!
Now just make sure your internet connection is sold, you have your video and mic check and ALL your notifications are turned off and silenced- that means SMS, Slack, Email, or anything else that can pop up on your screen.
** You must be streaming live to get your live stream link- we recommend creating several posts prior to the live stream event to remind your members and then start your live stream before creating the post in Mobilize.
For more information on Live Streaming, check out their Help Article here.