This help article is a reference to Novi, an association management software. For more information, visit www.noviams.com
How the Mobilize & Novi AMS integration Works
In order for members to be synced to Mobilize, a record from Novi must meet two criteria:
It must be an individual's record, not a company.

The individual must have a Novi login/user account already created.
We receive the following information about individuals from Novi groups to Mobilize:
First Name

Last Name

Email

Company Name

Job Title
As long as an individual is in your synced Novi group and they have a Novi login/user account, they will be in your connected Mobilize group.
*Note if you would like updated information from Mobilize to update in Novi, a Zap to update community member information in an external database will need to be set up.
Step 1: Create Your Group in Mobilize
Before syncing Novi groups into Mobilize, you'll want to create the Mobilize group to match it to.
To do this, start by selecting the ( + ) next to Groups in the main Mobilize navigation bar.
On Screen 1 (See below):
Name your group

Select your Parent Group. Any groups that will be synced with Novi MUST be a "top-level" group, therefore having a parent group of None. However, if you're creating a sub-group that will not be connected to Novi, you may select a parent.

The group email address will populate based on the group name.

Click Next.
On Screen 2 (See below):
Set your group permissions. Groups synced with Novi MUST be set to Private. This ensures that the Novi group will control the members of the Mobilize group.

For groups synced with Novi, uncheck "Joining the group requires managers approval." Since this is a private group, this is not needed.

Update "Who can post on this group?" to Members and group managers. This will allow your members to participate in the group.

Click Create Group.
All groups connected to Novi should follow this pattern so the sync does not override additional Mobilize self-added group members. However, keep in mind that you can create groups that aren't synced to Novi that people can join on their own. That's when you'd use the "Closed" visibility setting and select "Joining the group requires manager approval."
---
It's important to set up your group settings. Visit our Getting Started Guide to learn more about things like email settings, member posting permissions, and more.
Step 2: Initial Setup & Connection: Generate your API
To begin, you will need to be the Account Owner and have access to the Mobilize API. For more information about adding the API to your account, contact csm@mobilize.io
First, in Mobilize you'll need your API and Secret Key:
Navigate to your Community Settings by clicking your community name in the top left.

In the navigation bar, select Authentication.

In the navigation bar, select Integrations.

Click Create API Key.

Your API Key and API Secret will now appear.
** Important - The secret is only shown once. If lost, new keys will need to be generated

Give your API key a description - something like "[Association]-Novi AMS."

Click Save
In Novi:
Navigate to Association Settings by clicking the gear icon in the top right corner of the backend/admin side.

In the Integrations tab, copy/paste your Mobilize API Key and API Secret into the appropriate sections.

Before saving, click Test Connection to Mobilize button to ensure you've entered the correct information.

Once the connection is verified, save your changes.
At this point, the two systems are now connected! Next, you'll want to create groups in Mobilize that you will then connect to your Novi groups.
---
Step 3: Single Sign-On Setup (SSO)
Finally, you'll want to complete the settings to enable Single Sign-On between the two systems. You're going to want your members to be able to log in to Mobilize with their Novi login so that the system can recognize they're connected from a Novi group.
First, in Novi:
Navigate to SSO Clients by clicking the gear icon in the top right corner of the backend/admin side.

Click the Add SSO Client button

Name the SSO client (ex. Mobilize)

In the Valid Redirect Urls section, enter the following (replacing my_community with your community's name): https://my_community.mobilize.io/users/auth/openidconnect/callback

Save the SSO client. Once it has saved, click on it in the list to re-open the modal.
Then, in Mobilize:
Navigate to your Community Settings by clicking your community name in the top left.

In the navigation bar, select Authentication.

Click the arrow next to OpenID Configuration to open the dropdown.

Toggle the On/Off button next to the arrow to ON.

Now, you'll want to fill in the following information being asked and then save:

Directory Document: The full URL of your Novi website (https://www.websiteurl.com - *remove any characters like '/' after the domain).

Note: If this is being set up on your staging site, this will need to be updated to your live website's URL after launch.

Mobilize App ID: The "Client Id" in your Novi SSO settings modal

Mobilize App Secret: The "Secret Key" in your Novi SSO settings modal

OIDC Client Authentication Method:

Post Body

must be selected

Button Label Text: What the login button should be labeled for users who will be logging in to Mobilize.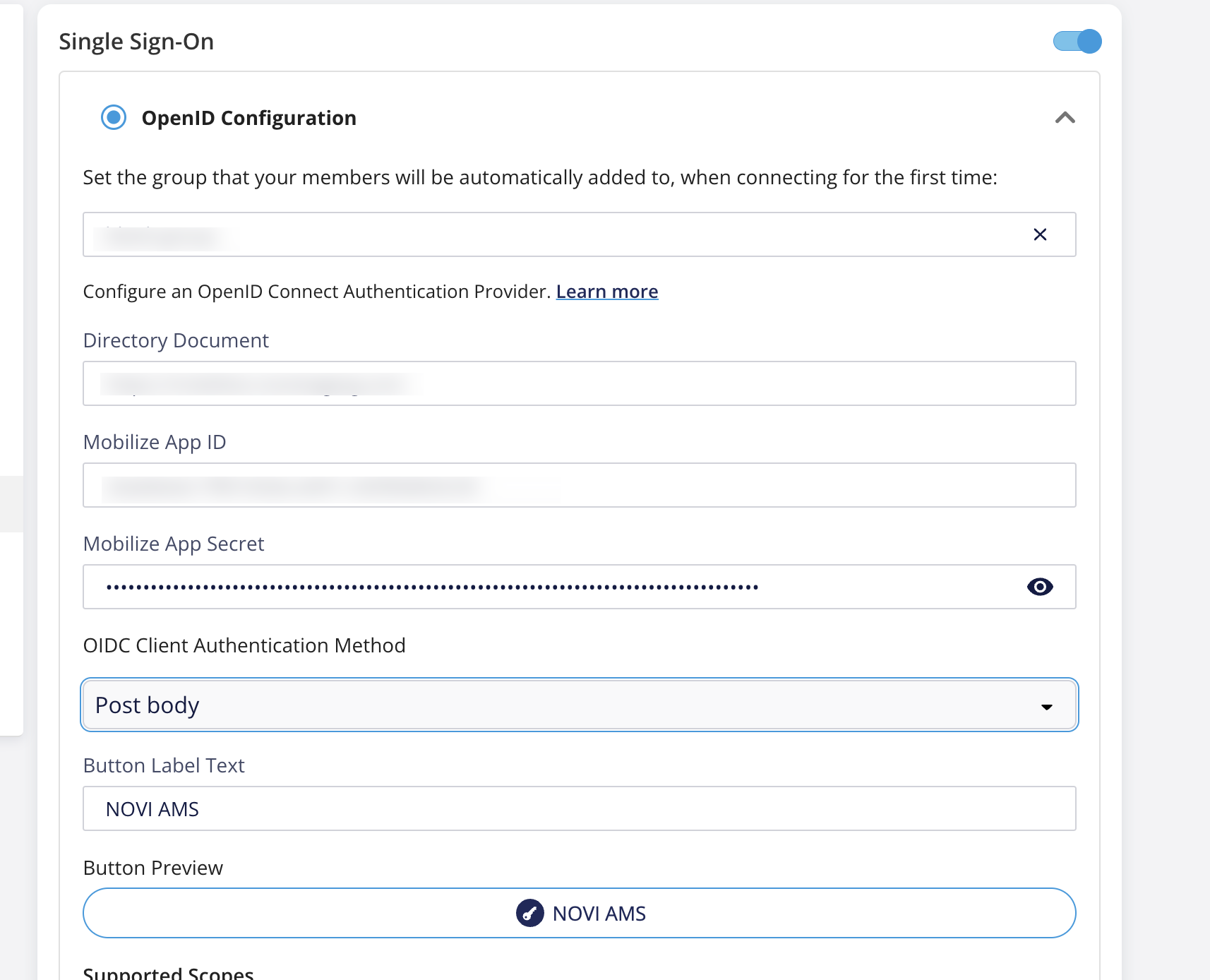 ---
Step 4: Sync Novi Groups to Your Mobilize Groups
Once you're connected and ready to tell Mobilize which members you'd like in which groups, navigate to your Groups section inside of Novi.
In Novi, you'll want to create a group(s) for each different community that includes the individuals you'd like to be in that community. Each Mobilize community can be connected to one Novi group.
Note: If Mobilize is being set up on your Novi staging website prior to launch, the sync will not run unless a Novi admin updates a setting for you.
Syncing Your Novi Group
Once your Novi group is set up, head to its Details tab and simply find the Mobilize section here:
In the dropdown, select the appropriate Mobilize Group and save your Novi Group. This will automatically begin syncing the group members' information to Mobilize.
How Group Syncs Work
If someone is added or removed to/from the Novi group, the same will happen in the Mobilize group. Keep in mind, any manually added Mobilize group members will be overwritten the next time the Novi group syncs to Mobilize.
You'll be able to see the status of the Mobilize sync in Novi in a column on both the main Groups list and within the Members tab of a specific group. As the group is syncing you'll see the spinner that indicates the changes being made within the column.
Successfully synced members will show an "Up To Date" message (below). If a record was not synced because it did not meet the criteria above, its status will appear as N/A.
Please Note: Unlinking the Mobilize group from the Novi group will not remove all members of the group in Mobilize, it will simply unlink the two systems from speaking to each other. This means that the members would remain in the Mobilize group unless you manually removed them in Mobilize. If you need to remove members, you'll want to be sure to do so through the Novi group's conditions.